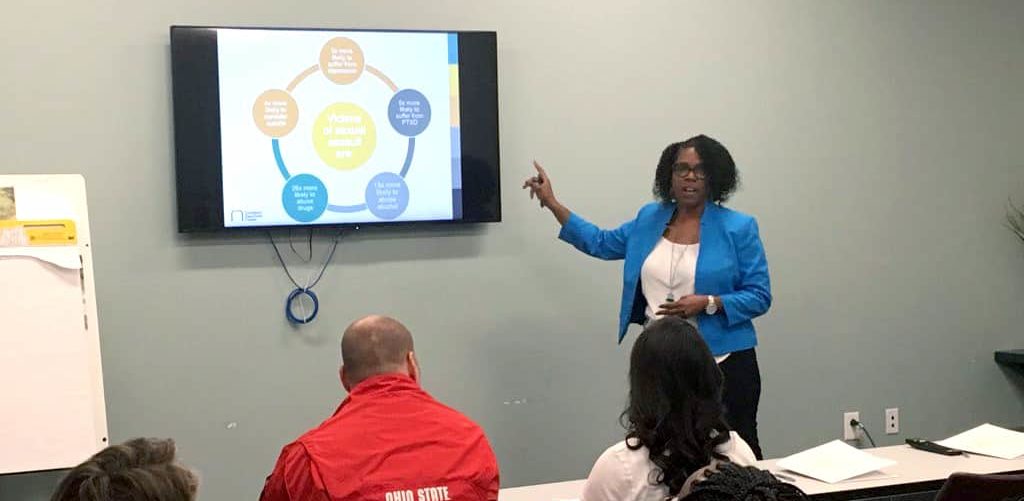 Through the Training Institute, Cleveland Rape Crisis Center is pleased to offer expertise on preventing, responding to and supporting survivors of sexual trauma. We offer trainings for a variety of professionals, including law enforcement and first responders, social service professionals, educators, and more.
Training Institute Calendar
Stewards of Children 
Wednesday, September 23, 12:00 – 3:00 p.m.
Cost: $10
Learn to prevent, recognize, and react responsibly to child sexual abuse. CEUs available for social workers, nurses, dentists, dental hygienists, and counselors.
Registration: Step 1, click here to register. Step 2, click here to pay the $10 course fee. Both steps must be complete in order to participate. 
---
Commercial Sexual Exploitation of Children (AKA: Child Sex Trafficking)
Wednesday, September 30, 12:00 – 1:00 p.m.
Cost: Free
CSEC or Child Sex Trafficking is any sexual activity involving a child for which something of value is given or promised. Learn about the root causes and understand why preventing and responding to child sexual abuse is necessary to end child sexual exploitation.
---
How Consent Can Teach Your Child about Communication and Coping
Sunday, October 4, 2:00 – 3:30 p.m.
Cost: Free
Join Cleveland Rape Crisis Center and Comprehensive Consent for a free, innovative webinar on consent, communication and coping skills.
---
Talking with Children about Safety from Sexual Abuse
Wednesday, October 7, 12:00 – 1:00 p.m.
Cost: Free
Having age-appropriate, open conversations about personal safety, our bodies, sex, and boundaries is an important step in protecting children as it instills knowledge in children and teens that make them much less vulnerable.
---
Bystanders Protecting Children from Boundary Violations
Wednesday, October 14, 12:00 – 1:00 p.m.
Cost: Free
Learn how to be an active bystander in child sexual abuse prevention and response. Discuss how to intervene and reinforce boundaries in real life examples of boundary violations and inappropriate behavior.
Request a Professional Training
To request a professional training tailored to your organization, please call (216) 658-2786, or request a professional training online.