Human Trafficking is an Often-Invisible Community Problem (Star Beacon) March 5, 2018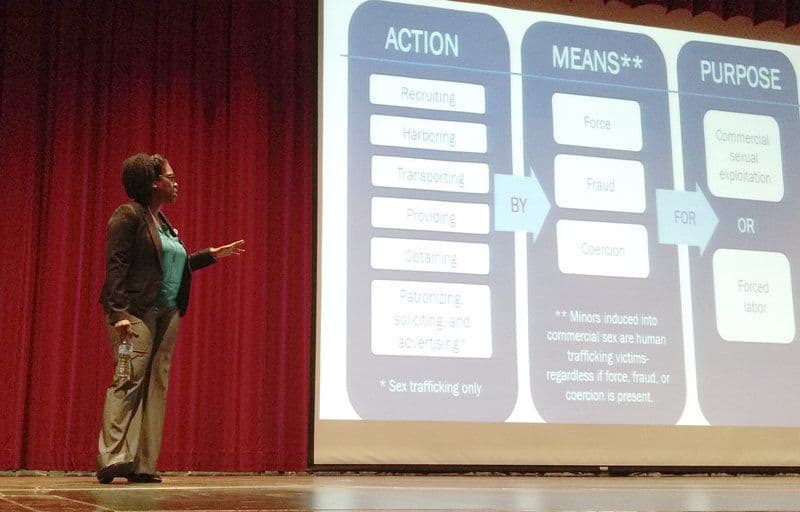 "JEFFERSON — 'It happens here, and it happens in plain sight,' Teresa Stafford, senior director of victim services and outreach at Cleveland Rape Crisis Center, said Thursday during the 'Human Trafficking: Under the Radar in Our Community' training at Jefferson Area High School.
"The seminar for counselors, social workers, law enforcement personnel and medical professionals focused on awareness and recognizing the risk factors for, and signs of, human trafficking in northeast Ohio.
"Stafford was one of three presenters for the event, which was a collaboration between Homesafe, Cleveland Rape Crisis Center and the Harriet Tubman Movement. Also presenting were Laura Bartchak, director of the Harriet Tubman Movement, and Keyna Smith, Project STAR (Sex Trafficking Advocacy and Recovery) coordinator for CRCC.
"'Survivors of trafficking didn't choose this lifestyle, and oftentimes, life before being trafficked was (difficult), and they deserve the support of the community and the systems,' Stafford said. 'Having awareness programs like this is a great first step.'
"The most powerful words you can say to a survivor are 'I believe you,'" Stafford said."
Continue Reading: Human Trafficking is an Often-Invisible Community Problem
This article was originally published by Star Beacon at http://www.starbeacon.com/news/local_news/human-trafficking-is-an-often-invisible-community-problem/article_75ba9613-b07f-53b2-9fb2-f73289cd9d6e.html.