Do you want to be surrounded at work every day by amazing people who inspire you to be your best? Check out these exciting new positions and careers at Cleveland Rape Crisis Center.  Innovative, passionate and fun professionals are encouraged to apply now to be a part of our growing team.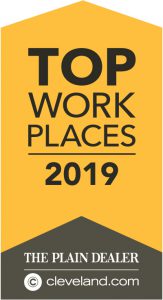 Cleveland Rape Crisis Center has been named a 2019 Top Workplace in Northeast Ohio.
The Center offers a work environment like no other, in addition to a competitive compensation and benefits package.  Come see for yourself.
How to Apply
To apply, complete the online job application form or mail your resume and cover letter to (Specify Position), Cleveland Rape Crisis Center, The Halle Building, 1228 Euclid Ave., Suite 200, Cleveland, OH 44115. No phone calls, please.
Interested in an internship?  Read more about our internship program.
---
Cleveland Rape Crisis Center is dedicated to building a culturally diverse and pluralistic staff committed to teaching and working in a multicultural environment. Qualified applicants will receive consideration for employment and will not be discriminated against based on race, color, religion, sex, sexual orientation, gender identity/expression, national origin, disability status, protected veteran status, or any other characteristic protected by law.
Job Openings
Click on the position title to open the job description.
PRN Trauma Therapist (Adult and Child) – see position description below
PRN Trauma Therapist (Adult and Child)
Position Summary: Cleveland Rape Crisis Center is looking for experienced PRN Trauma Therapists to provide individual and group therapeutic services to survivors (of all ages) of rape and sexual abuse, as well as to non-offending family members, guardians, and other close supporters. PRN Trauma Therapists are expected to independently manage an agreed upon case load to ensure that all clients receive timely services, regular supervision and training provided. Applicants must have experience with trauma treatment, co-occurring disorders such as addictions and mental illness.
Qualifications: LISW OR LPCC required. At least 2 years of experience working with survivors of sexual assault and knowledge of trauma treatment  is required.  Knowledge of working with children is a plus.
Hours of Work:  Hours and number of hours worked are negotiable and flexible. Evening and weekend hours are available and preferred.