Victim Services Team Program Spotlight

Cleveland Rape Crisis Center's Victim Services program works directly with survivors of rape, sexual abuse and human trafficking as they navigate through the educational, judicial, and healthcare systems across Cuyahoga, Ashtabula, Geauga, and Lake Counties.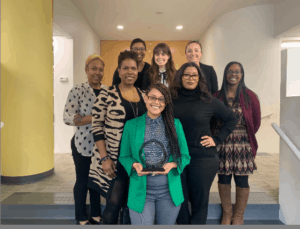 The team provides trauma-informed crisis intervention, ongoing support, and advocacy to survivors. Victim specialists educate survivors on their rights, ensure that their voices are being heard, and provide them with tools to empower themselves. 
Through criminal court advocacy, victim specialists advocate for survivors' rights within various law enforcement systems, including helping them file a police report, accompanying them to police interviews, meetings with prosecutors, and court proceedings. They facilitate communication with community partners, help survivors write victim impact statements, and assist with cold cases.
Victim specialists advocate for survivors in civil court settings, including with protection orders, civil torts, domestic relations, custody and divorce cases. They may also help survivors obtain civil legal representation, and accompany survivors to meetings with attorneys, court proceedings, and depositions.
The team also provides advocacy for survivors dealing with K-12 and college-level title IX issues.
Victim specialists also assist survivors who are feeling unsafe with safety planning. They work with the survivor to evaluate their level of safety when it comes to reporting, and help the survivor to make a plan to ensure their physical, mental, and emotional safety.
In 2019, the Victim Services Team provided services to 1,364 clients, and so far this year, more than 500 clients have received services.
Even though working remotely has been an adjustment for the team, they are still virtually meeting with clients and prosecutors, setting up engagement sessions, and staying engaged with clients, and will begin offering in-person services for clients by appointment the week of May 11.
The team's services are embedded within many partner organizations, including the Cleveland Division of Police's Sex Crimes and Child Abuse Unit, the Domestic Violence and Child Advocacy Center, Canopy Child Advocacy Center, the Human Trafficking Task Force, and at Cuyahoga County's Department of Child and Family Services. 
Victim Services Team
Kyra Alexander, Victim Specialist
Breanna Allen, Victim Specialist
Phillip Coe, Manager of Victim Services
Dericka Cunningham, Victim Specialist
Shanell Gist, Victim Specialist
Emilie Kipp, Victim Specialist
Tiffany Kish, Victim Specialist
Bailey Pastva, Victim Specialist
Yarimar Soto, Victim Specialist
Mary Margaret Whitney, Victim Specialist