Employee Highlight
Keri Grove
Client Access Speicalist
What is your role at CRCC, and what do you do?
I am a Client Access Specialist, working on the 24/7 hotline. This means that I answer hotline phone calls, texts, and chats to support survivors. I also take part in Face-to-Face advocacy, going to hospitals when a survivor has presented for a rape kit and to police stations when a survivor has presented to make a report. On face-to-face visits and over the hotline I help connect survivors to CRCC services by completing intake and scheduling appointments.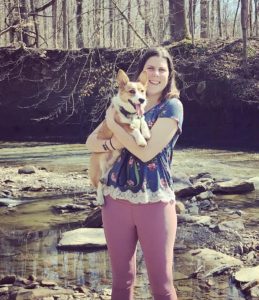 When did you start at CRCC?
I started July of 2019.

Which CRCC location(s) do you normally work from?
The hotline call center is located at the Shaker Square Office.                                                       

What do you do outside of your work for fun?
I love to take Olive on long walks in the Metroparks or to play at dog parks. I also enjoy spending time with my family, especially my nieces and nephews when I am able to see them.


What is your favorite thing to do in your role? Why?
Intake! What we do generally on the hotline is certainly important, helping survivors in times of need, often during moments of intense emotions and crisis. Being there in the moment is special, but knowing that a survivor has been connected to longer term services with CRCC, brings me hope.
When I have had a productive hotline call or face-to-face visit and have then connected a survivor with an appointment, I leave the experience knowing that the survivor is going to be passed along to another amazing CRCC employee- who can help the survivor in their healing journey. I know there are many survivors out there who are unable or not ready to access services for a variety of reasons, and so there is something hopeful and meaningful when that access happens.

What do you do for self-care?
Jigsaw puzzles are my go to! They bring me to a sense of calm like no other self-care activity I have yet found.

Where's your favorite place to get lunch near work?
Yours Truly- also my favorite place to eat lunch in general!

Do you have any pets?
I have an 8 month old Corgi named Olive, she is wild and crazy, and I love her! She is pictured in my photo.

What has been your favorite vacation?
Disney World! I went to Disney World last spring and it was a million times better than I remembered as a kid, I suppose I could appreciate it more now.