Program Spotlight: Project STAR
Through Project STAR (Sex Trafficking Advocacy and Recovery), Cleveland Rape Crisis Center provides advocacy, counseling, and trauma-informed crisis intervention to those who are survivors of sex trafficking and labor trafficking, so that more survivors of trafficking can recover and access healing services.
Project STAR provides services for survivors of trafficking, including victim assistance, counseling, and 24/7 response and connections to services, throughout Cuyahoga, Ashtabula, Geauga and Lake Counties.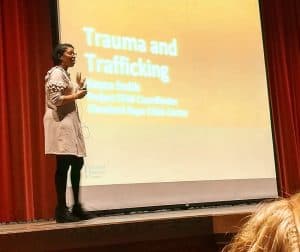 Empowering Victims
Survivors of trafficking have had their voice and power taken away from them, and endured immeasurable harm that will stay with them for the rest of their lives.  Project STAR victim specialists work to empower survivors, and help guide them through the investigations and court processes.  We educate them on their rights, ensure their voice is being heard, and help them move forward in their healing journey.
We provide information and resources to survivors of trafficking, clothing and other essentials, and help link them to services, here at Cleveland Rape Crisis Center, and with other organizations in the community.
Serving More Survivors Than Ever Before
In 2019, Cleveland Rape Crisis Center provided services to 107 survivors of trafficking through Project STAR, including 82 adults and 25 children.  There were 75 new clients in 2019 – a 108% increase compared with 2018.
One example of a recent success story is that we recently assisted a client with securing safe, permanent housing, a huge step in her journey to independence and recovery.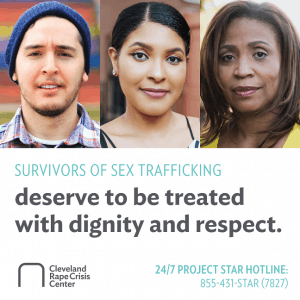 The Project STAR Hotline provides support and information for survivors of trafficking, information and assistance for professionals who work with survivors, as well as information for community members.  The Hotline fielded 299 calls in 2019 from survivors, professionals and members of the community – a 52% increase compared with 2018.
The Project STAR team is led by Director of Anti Human Trafficking, Keyna Smith, and Katherine Bernola and Ashley Thomas are Project STAR victim specialists. 
Improving Professional and Community Response
CRCC provides training for professionals who work with survivors of trafficking.  We also train professionals in many industries who are likely to come into contact with current victims of trafficking, so that they can be aware of red flags that someone may be in a trafficking situation, and how to report it.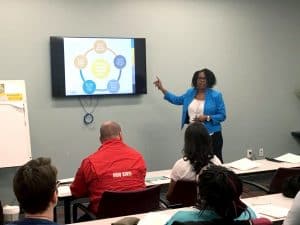 Project STAR is collaborating with our Prevention team to enhance CRCC's prevention curriculum with additional education about trafficking, so that more young people can be aware of trafficking.
Partnerships with other organizations are key to serving survivors of trafficking in our community.  Not one agency can do this work on its own.  CRCC has been a longtime member of the Collaborative to End Human Trafficking, and actively collaborates with the dozens of other local and regional agencies who work to end trafficking and provide services for survivors.
A Leading Service Provider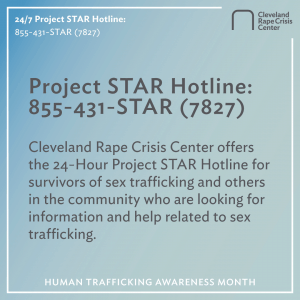 CRCC is recognized as a leading service provider for victims of trafficking in our region, and around the country.  We were recently contacted by the National Human Trafficking Hotline for information about our best practices with the hotline, and when working with survivors.
January is Human Trafficking Awareness Month, but we work every day to raise awareness about trafficking in our community, and ensure that survivors receive a compassionate response and access to healing services.
Resources to Share:
10 Things to Know About Sex Trafficking