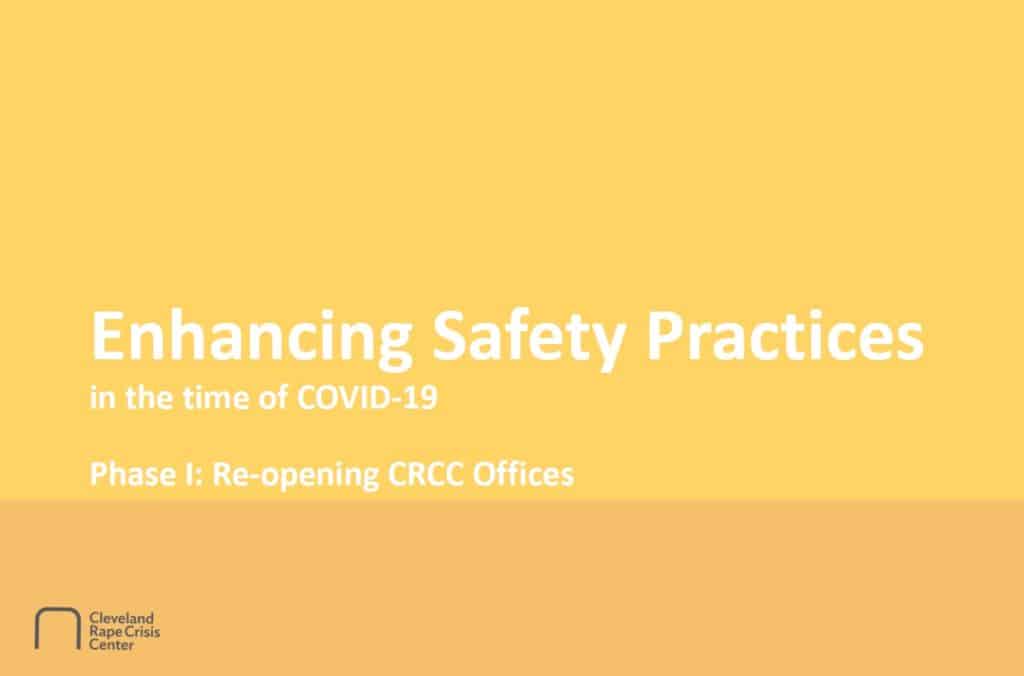 Plan to Gradually Re-Open Offices
CRCC Advocates:
I promised you that I would make decisions about re-opening our offices based on these principles: safety, communication, flexibility and trust. Some of you shared your disagreement about whether my decisions reflect these principles. Specifically, I heard that some of you perceive my decision to ask all employees to rotate in-office hours as a contradiction to your personal safety needs.
I also promised that our re-opening plan would be slow and gradual. I heard from you that there is a slower way to start.
After taking these and many other expressed sentiments into consideration, I am making adjustments to our plan to re-open our offices. Our offices will be open on Tuesdays and Thursdays by client appointment only. This means that:
• Clients will be informed of all of their options for services, including tele-health M-F and in-person appointments on Tuesdays and Thursdays.
• Decisions about which employees will be in the office will be made strictly by job responsibilities. To state another way, only Client Service Specialists and providers who have scheduled client appointments will be permitted in the office. Members of the leadership team will be present on a rotating basis.
• If you do not have a scheduled client appointment or mission-critical need approved by your supervisor, you are asked not to come into any office.
• Employee scheduling and client appointments will need to be carefully coordinated and communicated. If no client appointments are scheduled at an office on a Tues or Thurs, the office will not open. This will be organized and communicated through our Access to Care team.
Several employees have asked, so I want you to know that consideration is being given to how we might adjust our budget to provide additional compensation to employees providing essential in-office services during this time. I am not in a position to commit to this, but I want you to know we are already thinking about how to make this possible.
The following remains in effect:
• All safety practices that were shared by email to all employees yesterday and verbally during our employee meetings remain in effect.
• Offices will be open on Tues, May 5 and Thurs May 7 for employees who would like to come in to prepare work spaces or experience how our new safety practices are being implemented. The therapy and case management teams can refer to their schedule to determine which day they are assigned. Other teams' members can look for an email from their team leaders on Monday about how to schedule your visit should you choose to make one.
• Offices will be open on Tues, May 12 and Thurs, May 14 by appointment only.
• Offices will be open on Tues, May 19 and Thurs, May 21 by appointment only.
• Beyond those dates, we will consider our continuously evolving circumstances and client demand prior to announcing a schedule.
• Employees who wish to discuss employee benefits such as paid time off or medical leave or who seek an accommodation due to personal circumstances are encouraged to contact their supervisor and/or Maryse Sulimma.
Certainly you will have more questions and I ask for your patience as supervisors and the Leadership Team work in partnership to find the best solutions. We are taking necessary precautions to operate in a manner that prioritizes safety for our clients, and also for our employees.
Sondra