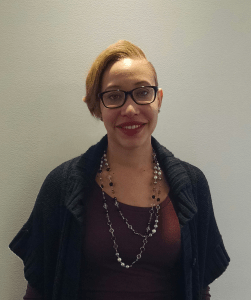 What is your role at CRCC, and what do you do?
Victim Services Coordinator
When did you start at CRCC?
April of 2016
Which CRCC location(s) do you normally work from?
When I am not at the main office, I am usually working from our satellite campus offices at CSU, CWRU, or NDC.
What is your favorite thing to do in your role?
prepare students for Title IX hearings.
What are you looking forward to during your role here at CRCC?
I am currently looking forward to hiring an intern soon to assist VST.
What do you do outside of your work for fun?
Shop, plan vacations, kick back with friends…
What do you do for self-care?
Right now, I'm working on reconnecting with my creative self.
What are you reading/listening to currently?
I'm currently reading "Go Ahead in the Rain: Notes to a Tribe Called Quest." By Hanif Abdurraqib. I am currently listening to "When I Get Home" by Solange
Give kudos to another staff member you would like to give a shout out to?
I would like to give kudos to Rachel Camargo, A.K.A. Rocky! She is a fierce advocate for our survivors of childhood sexual abuse at The CAC. Rocky's work ethic and dedication are inspiring to all those around her. In addition to being an amazing advocate, Rocky is constantly coming up with creative ways VST can uplift each other as a team, and as individuals.