21-Day Challenge: Education & What We Teach
Thank you to the YWCA of Greater Cleveland for leading us again this year on a 21-day Racial Equity and Social Justice Challenge. If you haven't yet, I highly recommend that you dig into their materials. It's not too late! This reflection is about Week 2, Day 7: Education & What We Teach.
Many of you may know that I worked at the YWCA for almost eight years before joining the team at CRCC. During my tenure, the YWCA refined its mission to "Eliminate Racism. Empower Women." I was fortunate to participate in many conversations – more than a decade ago – about how to bring this mission more alive in our local community. I recall that it was deliberate for the national YWCA to lead with "eliminate racism" in its mission statement, even though the programming at most local affiliates more closely aligned with the "empower women" part of the slogan.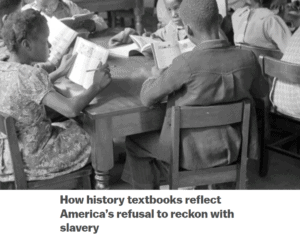 Among many reasons, putting "eliminate racism" first was an acknowledgement that the YWCA had not always made decisions that empowered all women. In fact, even with the YWCA's long-standing commitment to racial justice, its history is also wrought with racist and discriminatory practices. In Cleveland in the 1930s, for example, the Phyllis Wheatley Association was formed and became widely known as the "Black YWCA." One can presume that a "Black YWCA" was necessary in Cleveland because African American women did not feel safe and supported at the predominantly white YWCA.
It is difficult—but crucial– to acknowledge and confront the historical truths that we are ashamed of today.
Acknowledging History
One of the YWCA's suggested readings pushes us to think about the role our textbooks and curricula play in shaping our understanding of slavery in the context of our nation's founding. Or, more specifically, the role our textbooks and curricula play in helping us ignore the brutal and horrific realities of slavery in our nation's history.
The author starts by pointing out that "textbooks have been slow to incorporate black humanity in their slavery narrative." She further supports this with examples where the historical narrative is "more interested in emphasizing the compassion of enslavers rather than the cruelty endured by the enslaved."
I cannot pinpoint where I learned this, but I carry narratives in my psyche about slave owners who were kind and loving, or at least not violent and brutal. My child self was probably quick to embrace this notion, as it is hard to think about the horrors of slavery. As a young adult, I remember reading a book (I don't remember the exact title) about Thomas Jefferson and Sally Hemmings, an enslaved woman he was rumored to have "sexual encounters" with. It's been a while, but I don't recall any suggestion that this relationship was not consensual.
Of course, as an adult who champions an anti-sexual violence organization, I can recognize this for what it was: rape. And I can further understand how rape was used as a weapon to perpetuate the institution of slavery. (Here's a great article that Kim Haggerty shared with me on this topic.)
The author acknowledges "many Americans' desire to see history as one straight line of progress." But we also know that our unwillingness to acknowledge the brutal and horrific reality of slavery as part of our nation's history has only perpetuated the institutional and systemic racism that is still harming our society today.
What Are We Teaching?
As ambassadors of CRCC's mission, we are all teachers. This reflection gave me reason to slow down and ask: What are we teaching at CRCC?
We teach our community about the myths and facts of sexual violence. We teach other professionals how to respond to survivors of rape and sexual abuse. We teach survivors coping skills.
Dig deeper. What are we teaching?
Are we teaching a more convenient, less painful version of facts that ignores historical traumas and injustices that have been perpetuated by systems, institutions and even our own organization? Have we left out painful and shameful parts of our history?
Sadly, the answer is: most likely.
We must do better.
Our Responsibility to Unlearn Racism
Our responsibility is not merely to examine what we're teaching, but also to unlearn much of the misinformation that we have been taught. Racist attitudes and beliefs are a mixture of misinformation and ignorance, which are imposed upon all of us through social conditioning. But, this does not need to be – and should not be – a permanent state of affairs.
Much like the YWCA, CRCC must be willing to acknowledge and confront historical truths that we could be ashamed of today. Individually, we must take active and intentional steps to confront our own histories. Racist conditioning can only be stopped if it is called out, examined and actively unlearned.
What I learned during my time with the YWCA is that, while there is extreme urgency for change, overcoming racism is not done in a day, a year, or even a decade. It starts with an acknowledgement of the ways in which we have perpetuated racism, but then must move to intentional practices to unlearn what we've been taught.
Only then can begin to improve what we teach.
Sondra Miller President & CEO
Equtiy & Inclusion Council